Nursery Provided During All Services
Parents may participate in the worship service, knowing that their children are adequately cared for in the nursery. Children from birth through three years old are eligible for nursery care. When leaving their children in the nursery, parents receive a vibrating pager so that nursery workers call the parent should the child in the nursery have a special need.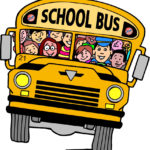 Bus Ministry
Pick-up is available in Clarkston Lakes Park. Our bus workers have a great program on the bus both coming to and leaving the church. Ages 6 and up.